Trump Executive Order Softens IRS Reporting Requirements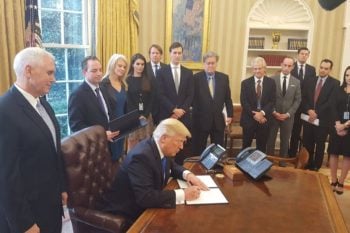 On January 20, 2017, Donald Trump was sworn into office and, in staying true to his most prominent campaign promise, he signed an executive order "minimizing the economic burden of the Patient Protection and Affordable Care Act."
Sec. 2. To the maximum extent permitted by law, the Secretary of Health and Human Services (Secretary) and the heads of all other executive departments and agencies (agencies) with authorities and responsibilities under the Act shall exercise all authority and discretion available to them to waive, defer, grant exemptions from, or delay the implementation of any provision or requirement of the Act that would impose a fiscal burden on any State or a cost, fee, tax, penalty, or regulatory burden on individuals, families, health care providers, health insurers, patients, recipients of health care services, purchasers of health insurance, or makers of medical devices, products, or medications.
This does not change the Obamacare law or modify it in any way–only an act of Congress can achieve that. Currently, under the Affordable Care Act law, you are required to demonstrate that you have minimum essential coverage or be subject to a tax penalty called the individual shared responsibility provision. For 2016, that penalty was equal to 2.5% of your adjusted gross income, or $695 per adult and $347.50 per child, up to a maximum of $2,085, whichever is higher.
What the executive order does appear to have changed is the enforcement of the individual healthcare mandate by the IRS this year. Explicitly, the IRS stated, "the IRS has decided to make changes that would continue to allow electronic and paper returns to be accepted for processing in instances where a taxpayer doesn't indicate their coverage status." Basically, this means that the IRS did not systematically reject tax returns this year when the taxpayer did not check the Full-year coverage box on their tax return.
What Does this Mean for Expats and Global Nomads?
It is important to note that the IRS is reminding taxpayers that they are required to follow all tax laws and pay what they might owe. But then again, Congress was never given any real power to enforce the penalty from the beginning so it will be very interesting to watch how this all unfolds.
What is our advice to those traveling or living outside of the U.S. for an extended period of time, and electing to drop their domestic coverage? Understand the rules around Obamacare and International Health Plans and consult a tax professional. Then make an informed decision about what coverage you need.
Related Reading